Цена: 4.31$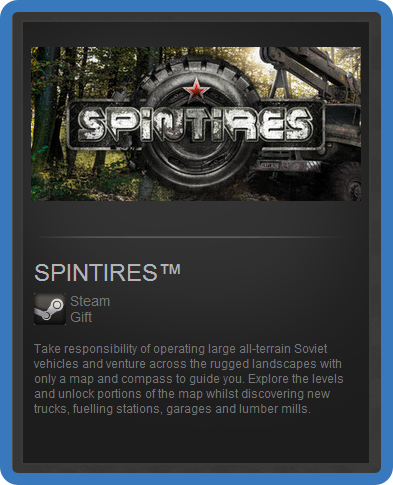 Spintires™ is an Intel® award winning off-road driving experience designed to challenge the player´s driving skill and endurance.
Take responsibility of operating large all-terrain Soviet vehicles and venture across the rugged landscapes with only a map and compass to guide you. Explore the levels and unlock portions of the map whilst discovering new trucks, fuelling stations, garages and lumber mills.
Collect lumber with the crane attachments and try to deliver them to the objectives. Try not to damage your vehicle or consume all of the fuel, prior to completing the objectives. Use the surroundings to your advantage, you may need to winch yourself free!
The real-time deformable terrain will challenge even the most seasoned offroader. Do you accept the challenge?
Дополнительная информация:
This product is a reference (gift), the transition to which the game is activated on your account!
ROW (REGION FREE) the game is suitable for any region would.
Товар представляет собой ссылку(подарок/гифт), при переходе по которой игра активируется на ваш аккаунт!
ROW (REGION FREE) значит что игра подходит для любого региона.
Подарок
***************************
Получи подарок напиши "хочу ключ STEAM"
Каждый третий, оставивший положительный отзыв получит ключ STEAM!
Призы это коммерческие игры, а не дешевые промо...
present
***************************
Get a gift, write "I want the key STEAM"
Every third positive comments get key STEAM!
Prizes are commercial games and not cheap promo ...
● ● ● ● ● ● ● ● ● ● ● ● ● ● ● ● ● ● ● ● ● ● ● ● ● ● ● ● ● ● ● ● ● ● ● ● ● ● ● ● ● ● ● ● ● ● ● ●
List of all products:
http://steamby.plati.ru
or
http://www.plati.ru/asp/seller.asp?id_s=176299
Список всех товаров:
http://steamby.plati.ru
или
http://www.plati.ru/asp/seller.asp?id_s=176299
Популярные товары:
http://www.plati.ru/asp/pay.asp?idd=1440563
Rust (RU/CIS) - steam gift + present
http://www.plati.ru/asp/pay.asp?idd=1815840
Garrys Mod (RU\CIS) - steam gift + СКИДКИ
http://www.plati.ru/asp/pay.asp?idd=1691635
Counter-Strike Complete (RU/CIS) - steam gift
http://www.plati.ru/asp/pay.asp?idd=1815833
Borderlands: The Pre-Sequel (RU/CIS/VPN) - steam gift
http://www.plati.ru/asp/pay.asp?idd=1785711
Grand Theft Auto V 5 (RU/CIS) - steam gift + ПОДАРОК
Popular Products:
http://www.plati.ru/asp/pay.asp?idd=1804312
Portal 2 (ROW) - steam gift + present + discount
http://www.plati.ru/asp/pay.asp?idd=1924243
Assassin´s Creed - Rogue (ROW) - steam gift + discount
http://www.plati.ru/asp/pay.asp?idd=1815838
The Darkness II (ROW) - steam gift + present + discount
http://www.plati.ru/asp/pay.asp?idd=1909532
Arma 3 (ROW) - steam gift
http://www.plati.ru/asp/pay.asp?idd=1909536
Arma 3 - Digital Deluxe Edition (ROW) - steam gift
http://www.plati.ru/asp/pay.asp?idd=1909531
Arma 3 - Extended Edition (ROW) - steam gift
http://www.plati.ru/asp/pay.asp?idd=1785710
Next Car Game: Wreckfest - Digital Deluxe Edition (ROW)
● ● ● ● ● ● ● ● ● ● ● ● ● ● ● ● ● ● ● ● ● ● ● ● ● ● ● ● ● ● ● ● ● ● ● ● ● ● ● ● ● ● ● ● ● ● ● ●
Цена: 4.31 $
Добавлен (обновлен):
Новые товары:
Игры, Кредитные карты, IP-телефония, Интернет провайдеры, Мобильная связь, Спутниковое ТВ
Бизнес и экономика, Дом, быт, семья, досуг, Санкт-Петербург, Компьютеры и интернет, Наука и образование, Техническая литература, Юридическая литература
iTunes & App Store, Базы данных, Дизайн, Доступ к ресурсам, Kарты продления, ключи, Фотографии, Шаблоны для сайтов
Безопасность, Игры, Домашний компьютер, Интернет, Мобильная связь, Программирование, Продвижение сайтов (SEO), Утилиты
http://jkeks.plati.ru/asp/pay.asp?id_d=1948866